Who should get tested for Covid-19? Are surgical masks really necessary? These and other questions answered by an infectious-medicine specialist
Questions and confusion are spreading now that the novel coronavirus 2019 has wreaked havoc in at least 70 countries. The virus has so far infected over 90,000 people and taken more than 3,100 lives across the globe, according to figures from the Department of Disease Control under the Ministry of Public Health.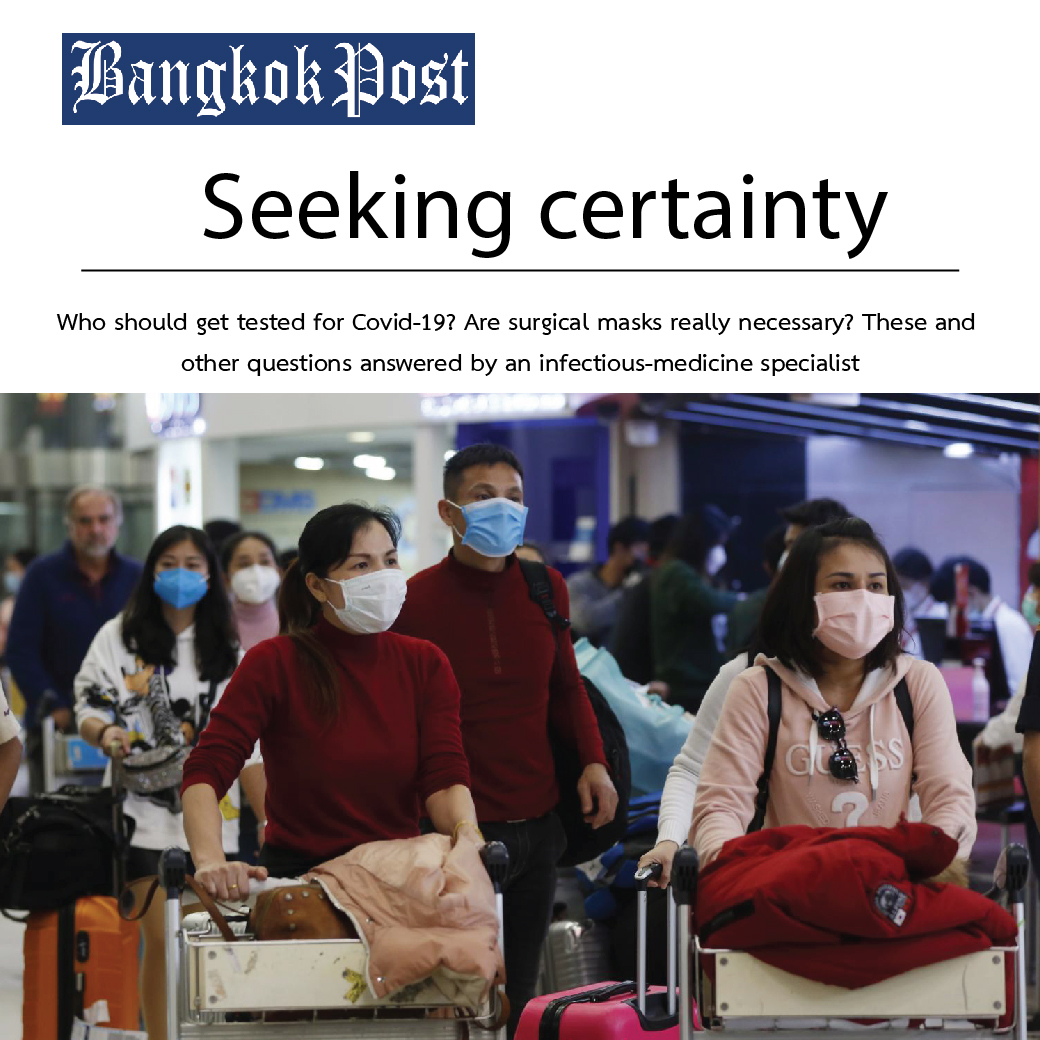 Thailand saw its possibly first coronavirus-related death on Sunday, making for a total of 43 people infected in the country. Although the national committee on communicable diseases has agreed to list Covid-19, the official name of the illness caused by the new coronavirus, as a dangerous communicable disease -- a move that will allow health authorities to respond more quickly to contain the outbreak in the event of local transmission -- the country is still in the second stage, wherein contagion is still very limited. Of all 43 cases of coronavirus-infected patients in Thailand, those who fully recovered account for around 70%.
In the midst of the outbreak, Life speaks to infectious-medicine specialist Dr.Thanason Thummakul from CGH Hospital, who clarifies doubts surrounding the sickness.
Will the coronavirus outbreak in Thailand reach the third stage?
Virus update: China deaths top 3,000; California calls emergency
Italy deploys emergency field hospitals to fight virus
More Covid-19 patients recover, discharged
"We will definitely reach the third stage," said Dr Thanason. "A number of infectious-medicine specialists believe so."
According to news reports, Public Health Minister Anutin Charnvirakul also plans to raise the Covid-19 disease outbreak in Thailand to the third stage to facilitate containment of the virus. The third stage refers to mass infections in a country.
Last week, the WHO declared the outbreak is at a decisive stage and that more new cases were reported outside China than within the country for the first time, highlighting the spread of the epidemic.
"The outbreak can go in any direction based on how we handle it," WHO director-general Tedros Adhanom Ghebreyesus said during the group's daily briefing in Geneva.
Although Thailand is sure to reach the outbreak's third phase, Dr Thanason strongly hopes that is happening gradually instead of abruptly.
"China's death toll from Covid-19 is high because a very large number of patients fell sick at pretty much the same time, too much for the country's public health system to handle. Doctors and nurses are also exhausted, attending a high number of patients. This means if infection takes place at a slower pace, we will be able to cope with the disease, which will in turn keep the death toll under control. And this will be possible if people practise preventive protocols strictly."
How to test for Covid-19?
So far, the only way to check if patients are infected with the novel coronavirus is through a laboratory technique called polymerase chain reaction (PCR). The test can screen for genetic materials of the virus inside the human body. Specimens for PCR testing should be obtained by aspiration or swabbing the posterior nasopharynx.
Right now, the PCR test can only be carried out in large state hospitals such as Chulalongkorn Memorial Hospital, Rajavithi Hospital, Ramathibodi Hospital and Siriraj Hospital, as well as private healthcare providers such as Paolo Hospital, Phyathai Hospital, BPK 9 International Hospital and PatRangsit Hospital. Prices vary.
Who should get tested?
First and foremost, people with no Covid-19 symptoms (fever, dry cough, shortness of breath) should see no need to get tested for the new coronavirus, especially if they do not travel to high-risk countries such as China, Japan, South Korea, Macau, Hong Kong, Singapore, Taiwan, Iran, France, Germany and Italy.
"No symptoms could mean no virus, or that the viral load is still too low to be detected," explained Dr Thanason. "If people get tested without any symptoms and the test shows negative results, it could mean the viral load is too small. And with such results, they might be confident that they are safe from the virus, which might not necessarily be the case."
People who do not travel to high-risk countries and are not in close contact with people from high-risk countries should see no need to get tested.
"Unless the outbreak eventually reaches its third phase, which means the transmission is widespread, people with cold- or flu-like symptoms should be tested."
What about people who return from high-risk countries?
Social responsibility is paramount in such cases, said Dr Thanason. Although the coronavirus scare looms over Thailand, it is extremely important that those who return from high-risk areas declare themselves.
"These people should be encouraged to be brave and tell the truth, if only for the benefit of themselves in terms of diagnosis and treatments. These people should not be blamed but should instead be complimented for their courage."
Should we not travel overseas at this point of the outbreak?
Trips to high-risk countries should not be scheduled and should be cancelled if already planned. Trips to other countries should be cancelled or postponed unless extremely necessary.
"If people are to travel, they must do so with care, especially when they are in public places like airports, aircraft and so forth. But even though they travel to low-risk countries, how can they be sure that they would be welcome now that Thailand is known also as an area of outbreak?" Thai people can still travel domestically, though, said the doctor. "But avoid crowded places and take preventive measures."
Is wearing a surgical mask the best way to prevent the virus?
Now that surgical masks have become largely out of stock in the country, Dr Thanason said it is crucial to understand the transmission, so that people will in turn understand how best to shield themselves against the infection.
The coronavirus is transmittable via fluids in the respiratory system such as mucus and saliva. When coronavirus-infected patients cough or sneeze without covering the mouth, they disperse droplets of mucus and saliva into the air.
These droplets stay in the air and fall onto any surface about 1-2m away. This means direct transmission can occur within a 1-2m radius from coronavirus-infected patients.
"What doctors are worried about is indirect transmission, which means getting the virus from those droplets that stay on surfaces like doorknobs, handrails and other public facilities. Because the virus can survive in room temperature for 5-6 days, most patients are infected by making contact with a surface or object that has the virus before touching their own nose, eyes or mouth."
This also means surgical masks would work best for patients who are already infected or could possibly be infected, as well as for people entering crowded places where direct transmission from patients' coughing and sneezing could be possible. Those caring for coronavirus-infected patients must also wear a mask.
"Coronavirus-infected patients should by all means wear protective masks," Dr Thanason stressed. "For others, basic personal hygiene habits should be strictly practised, including frequent handwashing and cutting the habit of touching nose, eyes and mouth."
When to use a mask
Surgical masks have been largely out of stock in Thailand following the Covid-19 outbreak. Some healthcare personnel even took to social media to complain about the situation. The World Health Organization recently released guidelines with regard to the necessity of
•
For healthy people, wear a mask only if you are taking care of a person with suspected coronavirus infection
•
Wear a mask if you are coughing or sneezing
•
Masks are effective only when used in combination with frequent hand-cleaning with alcohol-based hand rub or soap and water
•
If you wear a mask, then you must know how to use it and dispose of it properly
สมัครรับข่าวสาร
อัพเดทข้อมูลข่าวสาร แพ็กเกจและโปรโมชั่น ส่งตรงถึงคุณเป็นคนแรก